Last updated on 10.9.2023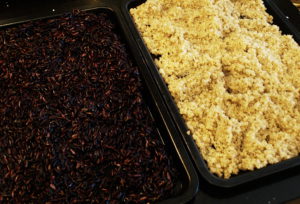 I discovered quinoa in the United States and since then it's been a staple grain in my diet. It's not always easy to find it as it's not as ubiquitous in Europe as it is in the US. In Prague you can find it in DM (Alnatura) or Country Life. In the UK you should be able to find it in all the major grocery stores, or order it online in bulk.
Following recipe is a variation (simplification) of a recipe I found on the web and I fell in love with it instantly. Its sweet orange flavor with the bitterness of rocket and black rice is hard to match. You can eat it as a light summery salad on its own or as a side dish with grilled chicken or even salmon.
The recipe is for 4 meal-size servings, 1 serving contains about 678 kcal (15 g protein, 104 g carbs, 22 g fat, 12 g fiber), and costs around £1.7 (May 2017)
1 cup (200 g) quinoa
1 cup (200 g) thai black rice
3+1 tbsp (45 mL + 15 mL) olive oil
1 medium onion (125 g), roughly chopped
2 spring onions, thinly sliced
1 garlic clove, minced
1/3 cup (34 g) roasted pistachios (ca. 68 g unshelled), chopped
1/2 cup (86 g) dried apricots, cut into 1/3-inch dice
1/3 cup (36 g) dried cranberries
1 tsp finely grated orange zest
1/3 cup fresh orange juice (ca. 1/2-3/4 of an orange)
3 generous handfuls (100 g) baby rocket (arugula) leaves (or mixed baby leaves – rocket, spinach, watercress)
Salt and freshly ground pepper
In two separate pots with plenty of water and some salt bring to boil 1 cup well washed quinoa and 1 cup rice. Simmer quinoa for 12 minutes and rice for 25-30 minutes or until al-dente.
In a pan with 1 tbsp oil sautee the chopped onion on medium heat until golden brown (not burned), about 5 minutes. Set aside to cool.
When the rice and quinoa are done, spread them on a baking tray to cool down quicker.
In a large bowl mix together all the remaining ingredients – orange zest, 3 tbsp olive oil, minced garlic chopped pistachios, apricots, cranberries, orange juice spring onions and rocket.
When cooled down, add the onions, rice and quinoa. Mix well and season to taste with salt and pepper. Serve cold or store in the fridge for up to 3 days.