Last updated on 6.6.2018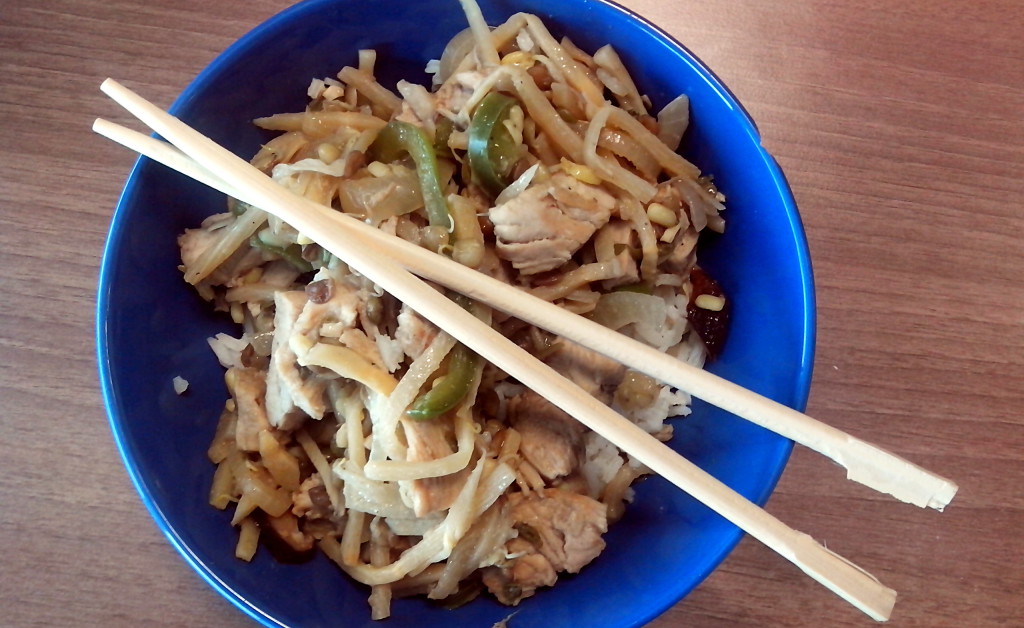 Recently I got this amazing antique cookbook published in 1978 with five million recipes of all kinds and this is the first recipe I decided to try. The ingredients are slightly modified for my palette and it turned out great.
The recipe is for 4 servings, 1 serving contains about 420 kcal, and costs around 55 CZK (Feb 2016)
4 tablespoons (60 mL) canola oil
4 (10 g) dried Chinese mushrooms (Shitake)
1 can (565 g) bamboo shoots (thinly sliced into slivers)
1 large onion (160 g)
1 green pepper (200 g)
1/2 lb (250 g) fresh bean (or assorted) sprouts
1 lb (0.5 kg) chicken breasts
2/3 cup (150 mL) vegetable stock
pinch of sugar
1 tablespoon (15 mL) soy sauce
salt
black pepper
1 teaspoon (3 g) corn flour
1 tablespoon (15 mL) medium dry sherry
Soak the mushrooms in water for 20 minutes, then strain them and thinly slice them.
Cook (or grill) the chicken breast, then dice it.
Thinly slice the onion and green pepper.
Heat the oil in a frying pan. Add all the vegetables, mushrooms, sprouts and bamboo shoots and stir-fry for 4 minutes. Add the chicken and fry for further 3 minutes. Stir in the stock, sugar, soy sauce and salt and pepper to taste and bring to the boil. Simmer for 5 minutes.
Dissolve the corn flour in the sherry and stir into the pan. Simmer, stirring, until the liquid thickens.
Serve hot with rice or noodles.