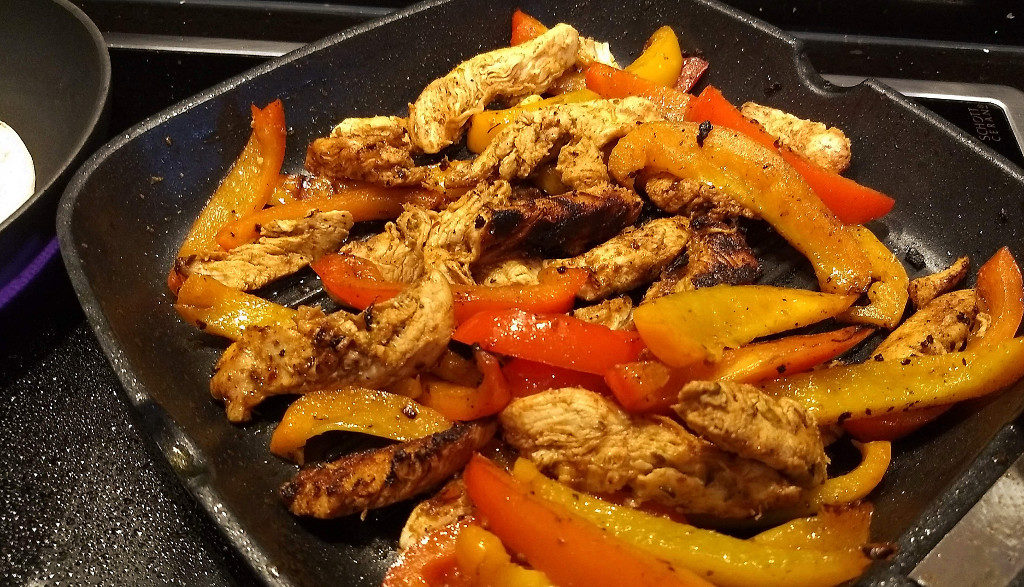 This recipe is for 2 servings. One serving with 4 small tortillas costs around £4.30 (February 2018)
Grill ingredients
300 g chicken breasts
¾ tsp ground cumin
¼ tsp asafoetida (hing)
¾ tsp salt
¾ tsp dried oregano
¼ tsp smoked paprika
1/8 tsp crushed chillies
¾ tsp sugar
Juice of 1 lime
1 red pepper
1 yellow pepper
1 tbsp garlic infused olive oil (Waitrose)
Corn tortillas (Old El Paso Mexicana Street Market)
Salsa ingredients
4 ripe tomatoes,deseeded and finely chopped
Juice of 1 lime
2 tsp garlic infused olive oil (Waitrose)
1 jalapeno, deseeded and finely chopped
Handful of cilantro, chopped
Salt and pepper to taste
Grill
Cut the chicken lengthwise into strips. Mix with all the spices, sugar and lime juice, either in a bowl or you can use a ziploc bag. Let it marinate in the fridge, ideally at least for an hour or two.
Deseed the peppers and cut them into strips.
When waiting for the chicken to marinate you can make the salsa.
When the chicken is ready, heat the garlic oil in a grilling pan and grill the chicken until just done. Add the peppers to the pan and grill until peppers are soft.
While the meat and peppers are grilling, warm up tortillas on a clean dry pan. Allow about a minute per tortilla. Keep them on a plate under a lid to stay warm.
Salsa
Mix all the ingredients, put in a jar or a bowl and let it rest so that all the flavors combine together.