Last updated on 6.6.2018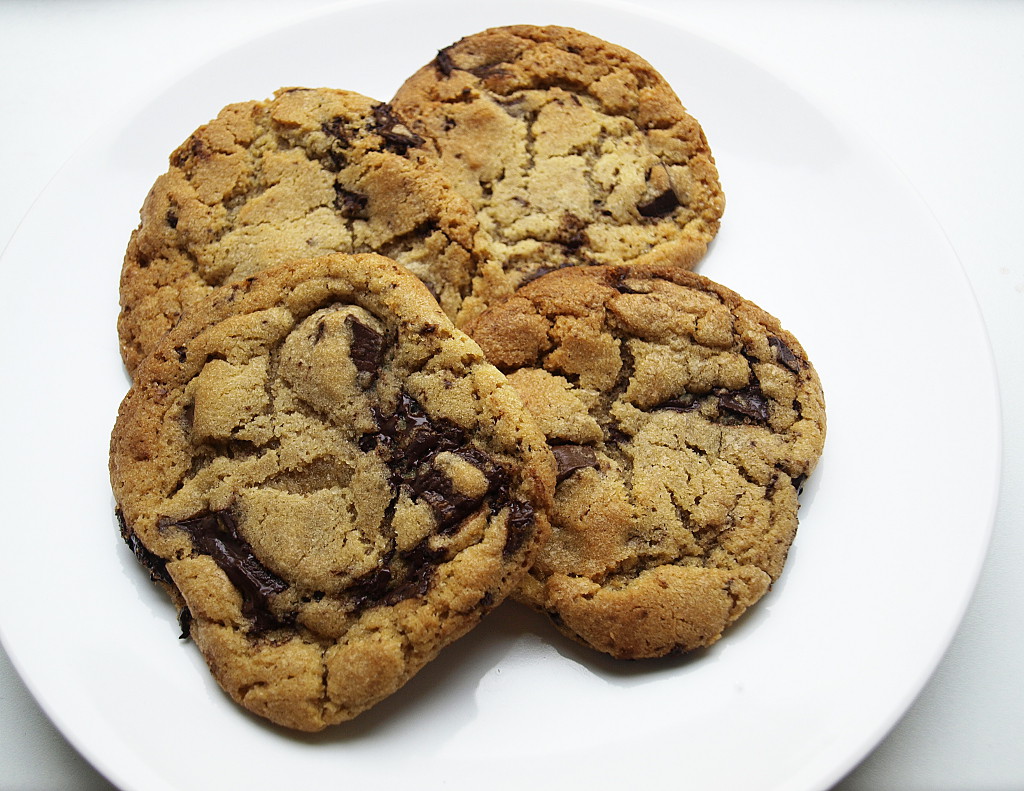 I don't think it's necessary to write any introduction for chocolate chip cookies. They're staple and life would not be the same without them. I was trying to adapt the recipe to the resources available in non-US countries. Therefore you can substitute brown sugar with muscovado sugar from Marks&Spencer and chocolate chips are just chipped higher quality bar chocolate pieces. The result is still very satisfactory.
The recipe is for 42 larger cookies, 1 cookie contains about 276 kcal, and costs around 8 CZK (June 2015)
340 g cake flour / white flour (M&S)
320 g bread flour
11 g baking powder
10 g baking soda
11 g salt
425 g butter
412 g brown sugar / light muscovado (M&S)
345 g white sugar
3 eggs
15 g vanilla extract (M&S)
600 g chocolate pieces (Belgian 72%)
Sift flours, baking soda, baking powder and salt into a bowl. Set aside.
Chop chocolate bars into small pieces, about 4 mm.
Cream butter and sugars together until very light. This will take some effort if you're doing it by hand. Add eggs, one at a time, mixing well after each addition. Stir in the vanilla. Add dry ingredients and mix until just combined. Make sure there's no uncombined flour in the bowl though. Drop chocolate pieces in and incorporate them without breaking them. It's best to refrigerate the dough for 24 to 36 hours. If you don't have that much time just leave it in the fridge until the butter in the dough hardens, for about an hour.
When ready to bake, preheat oven to 175°C. Line a baking sheet with baking paper. Set aside.
Scoop nine 50 g mounds of dough (the size of generous golf balls) onto baking sheet. Bake until golden brown but still soft, 14-18 minutes. Transfer sheet to a wire rack for 10 minutes, then slip cookies onto another rack to cool a bit more. Repeat with remaining dough, or reserve dough, refrigerated, for baking remaining batches the next day. It's also important to eat some cookie dough unbaked, just plain or with ice cream.