Last updated on 6.6.2018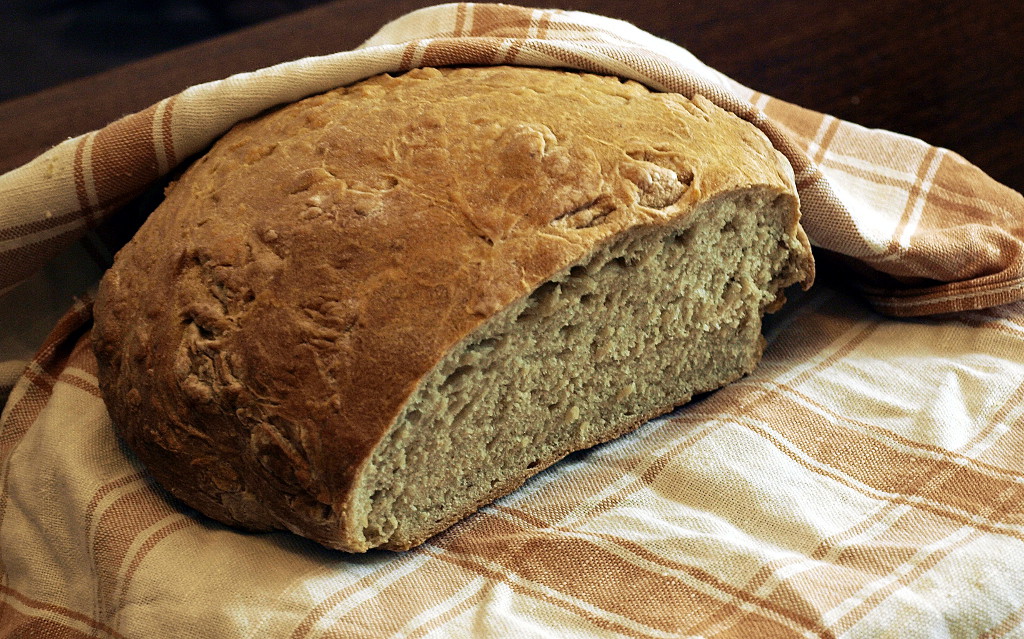 Making home-made bread seems like a lot of work but in fact it's very simple and cheap. The main ingredients are non-perishable so you can have fresh bread anytime, even when your house is burried under 20 feet of snow. The only pershable ingredient is buttermilk, which makes the bread thick and heavy, but you can easily substitute it with just plain water.
The recipe is for 1 loaf of bread (about 10 thick slices), it contains roughly 2000 kcal, and costs about 26 CZK (May 2015)
350 g Dark bread flour (wheat or rye)
150 g All-purpose flour
200 ml Buttermilk
40 g (1 cube) fresh yeast
100 ml water
2 teaspoons (16 g) salt
2 teaspoons (5 g) crushed caraway
1 teaspoon (5 g) powdered sugar
salty water for brushing
In a cup or a small bowl mix one tablespoon of flour, sugar and a small amount of water. Crumble-in the yeast and mix. Put in a warm place and let it rise for 30 minutes.
In a large bowl mix flours, salt, caraway and rised yeast. Add buttermilk and stir. Start adding water until the dough is slightly sticky, but not too much. You have to mix it well every time you add water. Even a small amount of water can turn it from a dry, crumbly dough into a puddle of mud. 100 ml of water should be about the right amount, you can possibly add a tiny bit more. Keep mixing the dough for about 5 minutes using a big wooden spoon. You can use a food processor but that's not as much fun and you won't get a nice workout.
When you're fed up with mixing the dough (5 mins), shape it into one big ball, keep it in the bowl. Cover the bowl with a cloth and put it in a warm place. I usually preheat the oven for 45°C, turn it off, and put it there. Let it rise for an hour.
After an hour, mix it a bit more and let it sit for another hour.
Preheat the oven for 220°C. Put a layer of flour on a baking tray, take the dough, try to make it in shape of a loaf of bread and place it on the tray. Brush it with salty water and bake it for 10 minutes. Then apply some salty water again, lower the temperature to 190°C and bake for 20 minutes. Apply salty water again, lower the temperature to 150°C and bake for another 20 minutes.
The bread should be golden brown and when you tap it you should hear a hollow sound.
Let it cool down on a rack, wrapped in a cloth. Don't cut it immediately or it will deflate.