Last updated on 6.6.2018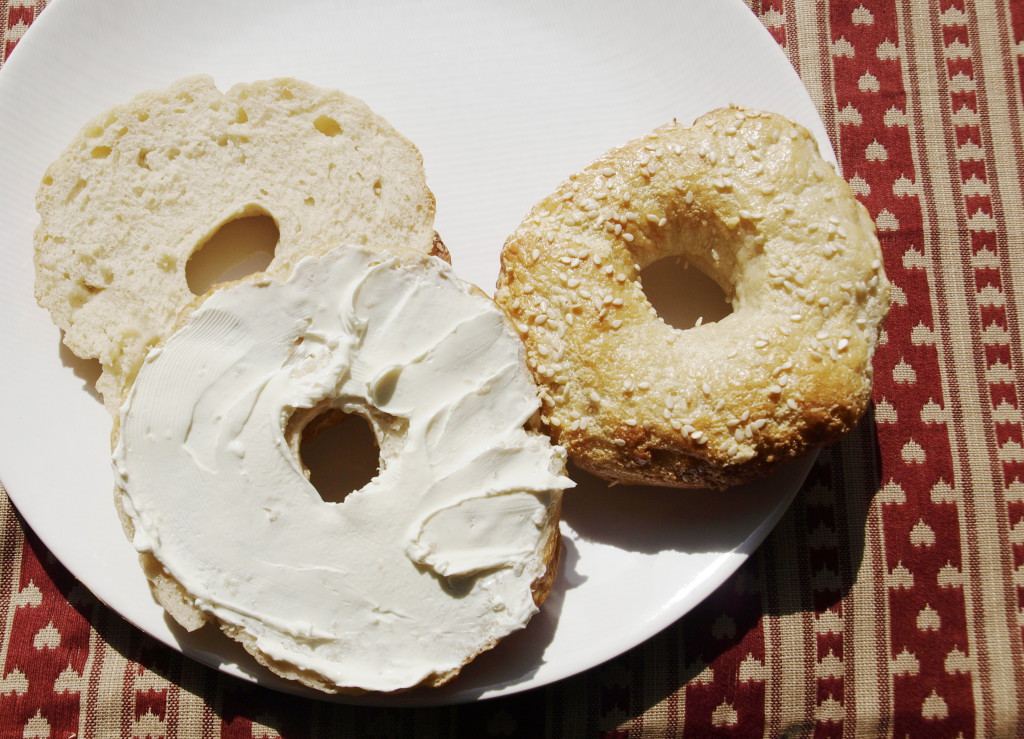 Who doesn't like bagels raise your hand. No hands up? I guess that's because bagels are delicious. I'm not from a naturally bagel-eating country so when I first heard about bagels I was like, what? What's all the fuss about? And why does it have the hole in the middle? Well, I love bagels now. I had a recipe I found online for a while and today was the right lazy morning to actually make them. Just four pieces to try, but they turned out great. The recipe is super easy. It takes some time for the dough to raise (as for all breads), that's all. And you can make it plain, sprinkle it with seeds (sesame in my case) or even incorporate, let's say, raisins or chocolate chips, into the dough.
The recipe is for 4 regular size bagels, 1 bagel contains about 240 kcal, and costs around 6 CZK (September 2015)
Dough
250 g (2 cups) All-purpose flour
1/2 table spoon (3 g) dry yeast
1/2 table spoon (8 g) agave syrup (Country Life)
1 teaspoons (8 g) salt
3/4 cup (150 ml) warm water
1/2 table spoon (8 g) olive oil
Topping
1 egg white
1 table spoon water
sesame seeds
Water bath
30 ml (2 table spoons) agave syrup (Country Life)
2 liters water
Pour 150 ml of warm water into a medium sized bowl. Add 1/2 table spoon of agave syrup and 1/2 table spoon of dried yeast. Gently stir and let sit for 5 minutes. Then add 2 cups of flour and a teaspoon of salt. Knead all the ingredients well for about 10 minutes to create a soft, non-sticky dough. You can use a wooden spoon, you can use just your hands or a food processor, it's up to you. Grease a bowl, put the dough in it, cover it with a kitchen towel and let it rise in a warm place for about 1.5 hours, not less than an hour.
Take the dough out of the bowl, knead it a little more and divide it into 4 balls. Put the pieces on a tray or counter top sprinkled with some flour, cover them with a kitchen towel and let them rest for another 20 minutes.
Take each piece, create a hole in the middle with your finger and shape it into a bagel shape. You can get some inspiration how to do it on YouTube.
In a large saucepan heat up about 1.5 – 2 liters of water, add 2 table spoons of agave syrup. Once it starts simmering put the bagels in and boil for 2-3 minutes. Then turn the bagels and boil for another minute. Gently remove the bagels from the water and place them on a tray lined with parchment paper.
In a small bowl beat one egg-white until frothy and mix it with one table spoon of water. Brush the bagels with the mixture and sprinkle them with some sesame seeds.
Preheat the oven to 425°F (215°C) ad bake the bagels for 20-25 minutes or until golden brown. Let the bagels cool down on a rack for 5-10 minutes before serving.