Last updated on 11.9.2020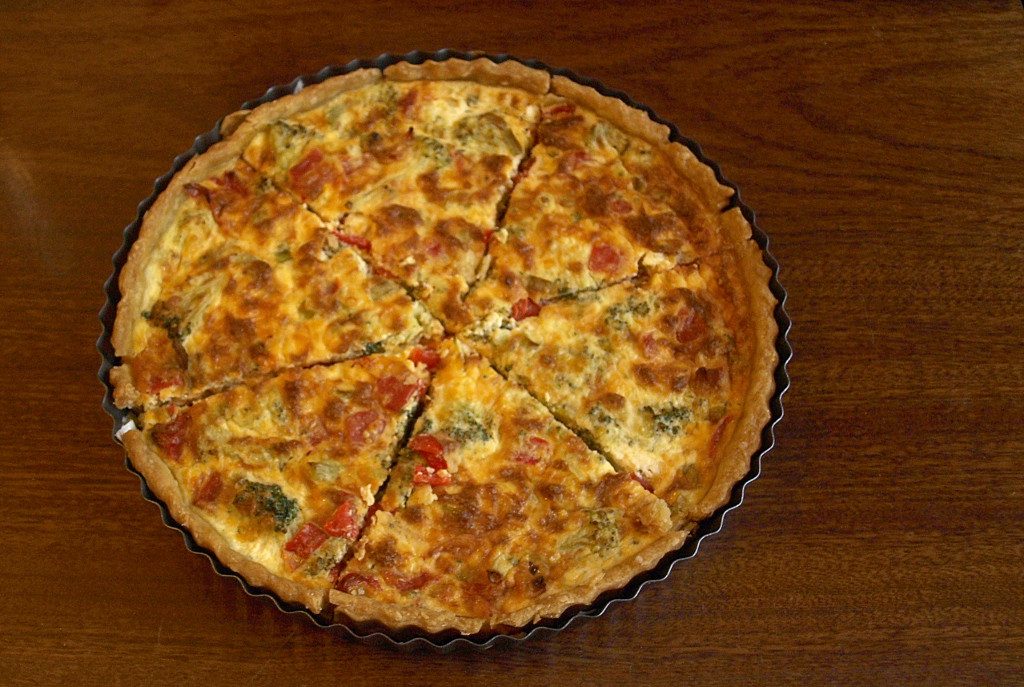 I like quiche. It's filling, full of protein, you can eat it warm or cold, with a fork or like a pizza. It's fairly easy to make, too. And, just like with pizza, you can use whatever ingredients you have at home: zucchini, mushrooms, ham, tomatoes, goat cheese, spinach – the options are endless.
Since my house is usually stacked with plain yogurt, for this recipe I used full fat (10%) low sugar plain white yogurt (kind of like greek yogurt) instead of double cream. It also makes it slightly healthier without sacrificing the taste. "Full fat" is important. If you use low fat, or even regular white yogurt you end up with egg mush instead of quiche.
The recipe is for 6 servings, 1 serving contains about 330 kcal, and costs around 43 CZK (Nov 2015)
Crust
1 cup (125 g) All-purpose flour (optionally 1/2 cup a-p flour and 1/2 cup coarse rye)
1 egg yolk (save the egg white for the filling)
1/8 cup (8 regular table spoons, 75 mL) olive oil
1/4 cup (100 mL) cold water
1/2 teaspoon (4 g) salt
Filling
4 egg whites
2 eggs
1/2 teaspoon (4 g) salt
2 pcs (160 g) red peppers
2 pcs (50 g) green onions
120 g broccoli
150 g full fat plain white yogurt (Chocensky)
50 g mature cheddar cheese
50 g Leicester cheese
In a medium bowl sift together flour and 1/2 tsp salt. In a separate bowl whisk together olive oil, cold water and one egg yolk (save the white for the filling) until it's foamy. Add to the flour/salt mixture and combine well. The resulting dough is a bit greasy and tears easily so it may be difficult to flatten with a roller and then transfer. So I just sort of press it into a 9″ (23 cm) pie/quiche loose bottom form, piece by piece. Make sure it's as thin as possible without tears/holes. It's quite easy once you get a hold of it. When you're done make a tiny hole in the middle using a fork to allow air to get out during baking.
Preheat the oven to 375°F (190°C) and bake the crust for 20 minutes.
If your oven is big enough, you can roast the peppers at the same time. If not, you have to do it separately. Just chop the red peppers into small cubes, lay on a tray and roast on 375°F (190°C) for 20 minutes.
In the bowl you used for the dough whisk together 4 egg whites and 2 full eggs, salt and yogurt. Add shredded cheddar and Leicester. Add broccoli cut to very small pieces and green onions cut to small circles. Once the peppers are roasted, add them too.
Combine all the ingredients together, pour in the baked crust and spread evenly.
Preheat the oven to 375°F (190°C) and bake the quiche for 30-40 minutes, until the center is firm.
Serve warm or keep in the fridge, covered, for up to 3 days.