Last updated on 6.6.2018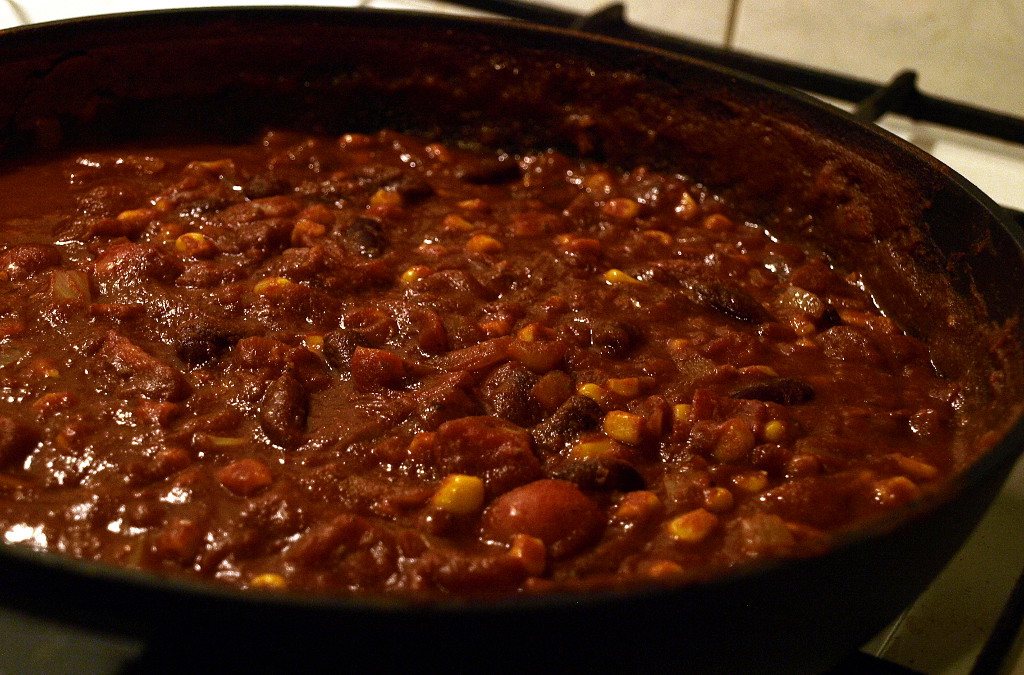 The recipe is for 6 servings, 1 serving contains about 177 kcal, and costs around 30 CZK (May 2015)
1 can (425 ml) peeled tomatoes (Giana)
500 g tomato sauce (Valfrutta)
1 can (425 ml) red beans (Giana)
140 g tomatoes
1 small can (170 g) sweet corn (Bonduelle)
1 teaspoon (8 g) salt
1 tablespoon (7 g) crushed carraway
2 tablespoons (14 g) mild chili powder (M&S)
1 tablespoon (7 g) sweet paprika
1 tablespoon (3 g) oregano
1 tablespoon (7 g) coriander (M&S)
1 tablespoon (15 g) lemon juice
7 cloves garlic
1 medium yellow onion
2 tablespoons (20 g) sunflower oil
2 tablespoons (20 g) corn flour (Druid)
In a large pan heat up the sunflower oil. Add diced onion and sautée it for a minute. Then add diced tomatoes and let it soften, for about another minute.
In a bowl, mix beans, canned tomatoes, tomato sauce and lemon juice with salt and all the spices. Add corn flour and mix well so there are no lumps. Add the mixture to the pan, combine it with the onions and tomatoes, cover it, lower the heat and let it simmer for about 15 minutes. Stir occasionally so it doesn't burn.
Add corn, press in the garlic and stir, uncovered, for about 2-3 minutes.
If you know you won't use all the sauce at once, you can put some hot sauce in medium jars. I usually put it in a clean pasta sauce jar, which is about two servings. When it cools down it sucks the lid in and seals the container tightly. You can keep it in the fridge for at least a week or two.