Last updated on 6.6.2018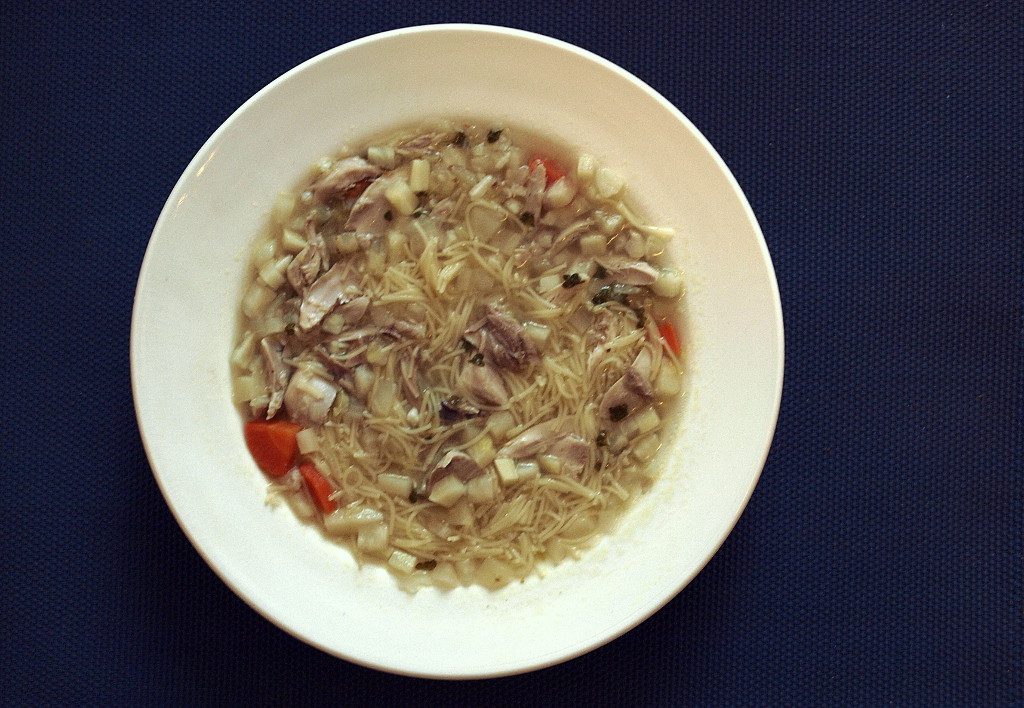 Chicken noodle soup is a great meal when you're sick, but it's great even on the days when you're not. The following recipe is very simple and quite fast. It doesn't contain any oil, nor any bouillon chemicals.
The recipe is for 4 servings, 1 serving contains about 240 kcal, and costs around 30 CZK (April 2015)
600 g (5 pieces) chicken drums (Řeznický pult)
150 g celery root
1 piece (80 g) medium onion
30 g leek (the light green part)
1 piece (70 g) parsnip
2 pcs (170 g) carrots
a twig of parsley tops
1 clove of garlic
2 teaspoons of salt
2 pcs bay leaves
several (8 pcs) allspice berries
several (8 pcs) black pepper berries
120 g angel hair egg noodles (Zátkovy válcované těstoviny)
Pour 1.5 liter of cold water into a larger pot and place on a burner. Rinse the chicken thighs and place them in the water. Peel and cut the vegetables and add them to the pot: cut parsnip and celery root into small cubes, onion and leek into rings, carrots into slices. Press the garlic or chop it finely. Place bay leaf, allspice and pepper in a spice mesh ball and insert it into the water. Add salt and chopped parsley. Sometime during the process of chopping the vegetables the water in the pot will probably start to boil. That's ok; Set the timer and cook for 40 minutes over low flame. After 40 minutes, take out the chicken, the meat shoud be pulling off the bone. Strip the nice meat, cut into bite sized pieces and put back into the pot. Be careful about the bones; no one wants to break a tooth on a soup 🙂 Add 0.5 liter of water and simmer briefly.
In a small saucepan cook the pasta according to instructions. Angel hair noodles usually take up to 1-1.5 minutes. Noodles can be made in advance, in which case you have to rinse it with cold water afterwards and fluff it with a fork a few times to prevent it from becoming a ball of dough.
Soup and noodles can be eaten even the next day. Leave the soup and the noodles in a fridge in separate containers.
What you do with the remaining chicken skins and cartilage is up to you. I usually eat the cartilage when it's cold (it's full of colagen) and throw the rest away.